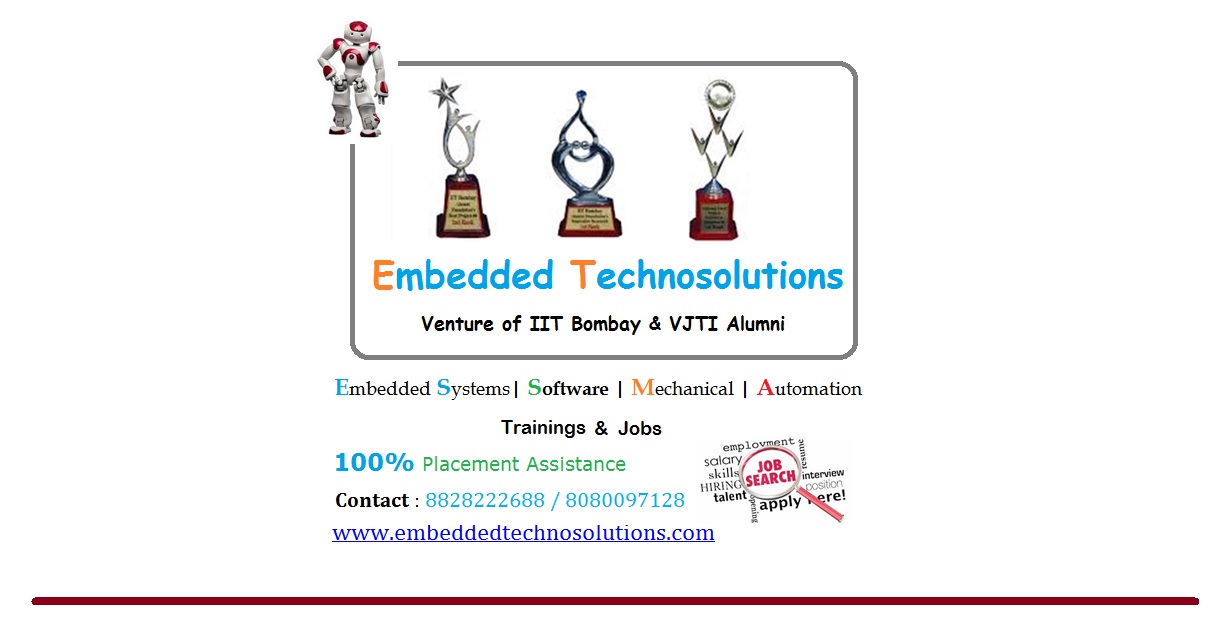 IIT Bombay Alumni Foundations Embedded Technosolutions has Launched
a New Training Program
" 

Industrial Embedded Systems & PLC Automation Combined 

" 
Now Explore your career in multiple domain with Single Training Program
 Any Industry Always Prefer a Candidate with Multiple Skills, Multiple Skills will Improve the Chance of Getting  Good JOBs & Opportunity
100% Placement Assistance
Objectives of t
his Course
Career Oriented Objective
1.  To provide the professional and industrial standard training in multiple domains, this will help the students to get a good job & opportunities in the core industries
2. As the students are having multiple skills, this will improve the chance of getting selected in interviews.
Technical Learning Objective
1.    To learn practical orientation of actual industrial product design in Embedded Systems & PLC Automation
2.   To learn Embedded C Programing which is the important part of Embedded Product Development
3.   To learn Programming of Internal Peripherals in Embedded C
4. To learn ARM7 Architecture in detail (LPC2148)
5.   To learn Hardware Requirements for LPC2148
6.   Learn wireless communication ,wireless modules & their interfacing
7.   Embedded Linux with advanced Raspberry Pi which is important requirement of the core market now
8.   To learn PLC automation related product development
9.   To learn PLC automation programming
10. PLC  applications designing
11. PLC interfacings
12. PLC Project Development
13. SCADA Programming
14. SCADA Applications Development
15. SCADA modular interfacing
16. SCADA Project Development
17. VFD Details
18. VFD Application designing & controlling principles
19. VFD Applications & Interfacings
20. To learn the designing of Real World Projects
For More 

Details & Placement Opportunity

 : Click Here
Mobile No. 
: 
8828222688 / 8080097128